The main objective of the project is to increase the innovation capacity of small and medium-sized entrepreneurs in the digital economy.
Project Implementation Notice:
Name of the beneficiary: ORIWIN, s.r.o.
Name of the project: Tax data verification module
Project location: Žilina, Bratislava - Ružinov district
Non-returnable financial contribution: 179 042,30 €
Brief description of the project:
The main objective of the project: Increasing the innovation capacity of SMEs in particular in the digital economy.
The subject of the project is the development and provision of services of a mobile application for the Android platform, which will simplify selected compulsory acts in the tax and financial area with a focus on increasing the utility value for all customers (entrepreneurs) who are VAT payers and all this by using electronic services and thus using public administration data.
The project will be implemented in accordance with the priorities defined in the National Concept of Informatisation of Public Administration and strategic priorities. The application will use open public administration application interfaces and open public administration data.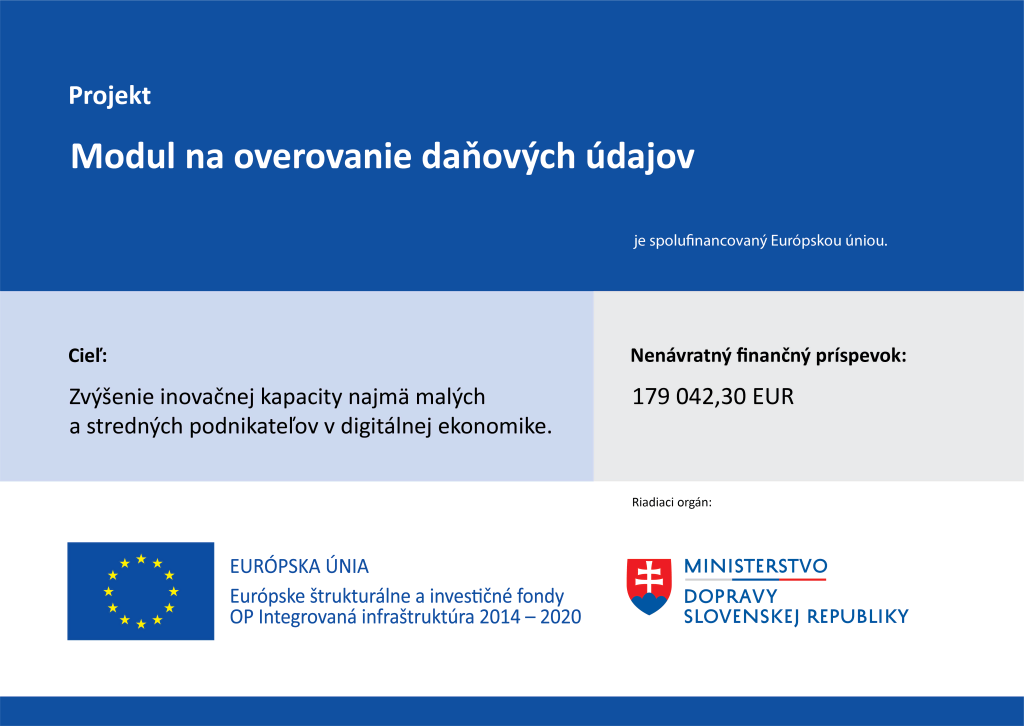 Published contract in CRZ: https://crz.gov.sk/zmluva/7910177/
Information on the Operational Programme Integrated Infrastructure 2014-2020 can be found at www.opii.gov.sk
Ministry of Investment, Regional Development and Informatization of the Slovak Republic: www.mirri.gov.sk Central coordinating body: www.eufondy.sk