In December, ORIWIN, in cooperation with its long-standing and reliable partner, the Brno University of Technology, organised a seminar entitled "Easy and transparent record keeping and inventory of assets using the latest SAP UI5 technology".
The participants of the seminar, held in the Stucco Hall, Rector's Office of the BUT, had the opportunity to:
to get acquainted with the new version of the FAIN product using the latest SAP UI5 technology, its functionalities and benefits,
listen to testimonials from customers who have already implemented FAIN,
to share experiences with each other on how to record and inventory assets
and test the FAIN product on the latest Android devices (terminals, smartphones or tablets) on site.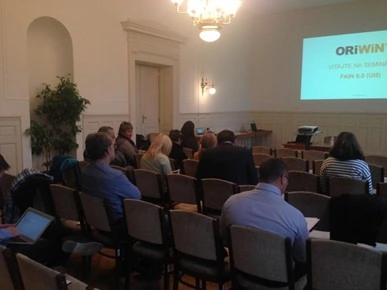 FAIN facilitates the registration and inventory of assets in the SAP ERP system (Module FI-AA or RE-FX). It greatly reduces the risk of errors caused by the human factor in the recording of assets without the need for any paper records. Inventory data collection is solved by mobile terminals or smart devices (smartphones and tablets) equipped with QR code, barcode or RFID scanner. Our applications can make the most of the native features of the devices such as calendar, phone, camera, email, GPS, maps, QR Code, Bar Code, RFID etc., all modern features that are now quite common for mobile applications.